Personalized Coloring Book with Positive Coloring Pages
Give a gift of love with You Are Loved. A personalized coloring book, You Are Loved features the child's name to color 30 times! In addition, the positive coloring pages include illustrations of adorable animals, all of whom offer words of encouragement and love poems for kids. You Are Loved celebrates a positive attitude and unconditional love. A joyful book, You Are Loved makes a great personalized gift for kids (and adults too!) because we all love coloring our own name. Moreover, the activity of coloring can be very soothing to children. If you are looking for positive coloring pages or Valentine's Day coloring pages, You Are Loved may be perfect. Surround a child with love and inspiration with You Are Loved. Please free free to view the entire book below. You Are Loved is priced at $19.95.
VIEW BOOK
You Are Loved: Positive Coloring Pages
If you purchase You Are Loved, then the name "SOPHIA" will become the child's name of your choice. (The blue text "Copyrighted Material" will not appear in your personalized book.)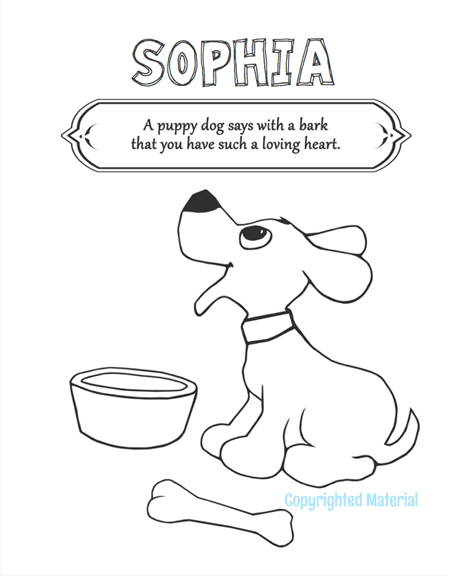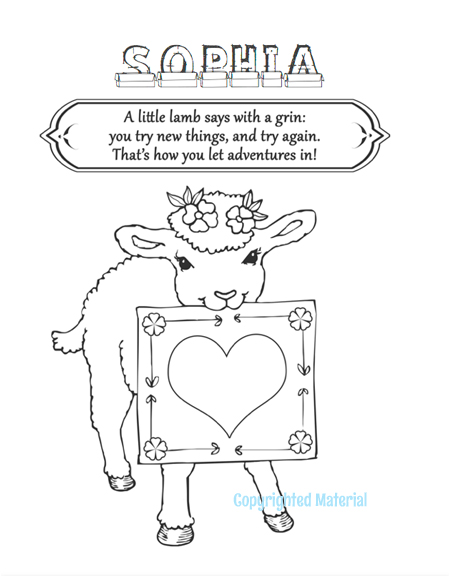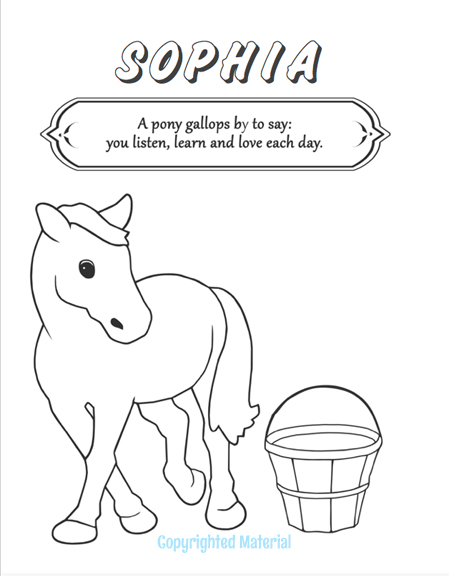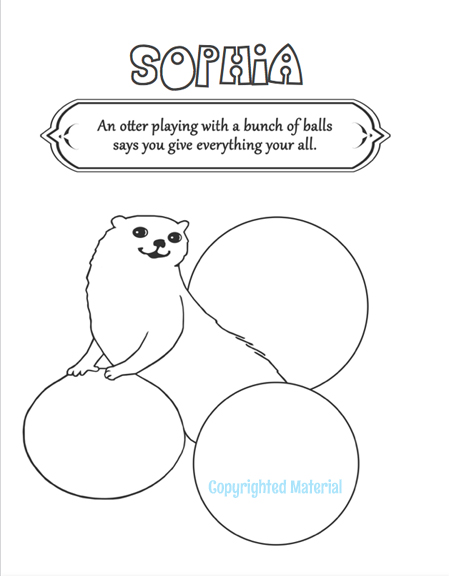 BOOK DETAILS
You Are Loved: Positive Coloring Pages
Child's Name Appears 33 Times (including Cover, Title Page, Dedication Page, Coloring Pages)
Book Measures 11 inches by 8-1/2 inches
Coloring Pages Total 30 Pages
Book Cover: Glossy Soft Cover
Do Not Use Markers. Please use crayons or colored pencils.
Personalized Books with Positive Coloring Pages
At Live Well Media, we are dedicated to inspiring and empowering children. For this reason, we have created this personalized book with positive coloring pages. Why does You Are Loved make a great gift for kids?
First of all, we all could use more positivity love in our lives. In fact, parents and grandparents often tell us that our personalized children's books give them a boost too! So, spread the joy around with the loving and positive coloring pages in You Are Loved.
Secondly, studies show that personalized books can improve focus, attention and self-esteem in children. When children hear or read their own name in a positive way, then they tend to feel pretty good about themselves. As a result, our personalized books make inspiring gifts for kids. In fact, personalized books can become keepsakes, treasured for a long time to come.
Thirdly, You Are Loved is packed with poems. According to research, poems for kids can improve literacy, reading and language skills. In fact, children can improve their speech, rhythm and memorization skills via poems for kids. Additionally, since kids enjoy rhymes, rhymes make learning fun.
Fourthly, positive coloring pages can have a soothing impact on children. In fact, for some children, coloring helps them meditate. If you know a young child who enjoys coloring, then consider giving them You Are Loved.
Ultimately, anytime you read to a child, you give them your attention. Since reading aloud improves your bond with a child, books make great gifts. Therefore, don't hesitate to read this personalized coloring book to a child — before, after or while the child colors in it.
Valentine's Day Coloring Pages
Packed with unconditional love, You Are Loved works as Valentine's Day coloring pages. Not only does You Are Loved convey a beautiful message of unconditional love, but it also offers a fun activity for Valentine's Day: Valentine's Day coloring pages! If you are looking for positive coloring pages or Valentine's Day coloring pages, You Are Loved may be perfect. Celebrate Valentine's Day with Valentine's Day coloring pages!
CUSTOMER REVIEWS
Book Reviews for You Are Loved
My daughter LOVED this book as well as myself too! It is fun to her to see her name listed in the book to color! I may purchase another one for her to have when she is finished coloring this one! ~ SC
Great for all ages! Gave this to our preschool director and she teared up. Growing up with a unique name, she never had anything personalized. This coloring book is done do nicely! I thought she would keep in her office for kids to make her pictures when needing to keep them occupied, but she loved it so much I don't think she'll hand it over. Might have to buy her a second one for actual use. Going to buy for twin 5 year olds too. ~ OG
Delightful coloring book. My niece and her daughter were delighted. Let the coloring begin. ~ Patricia Allen
Perfect personal gift to tell someone they are loved. ~ Melissa Williams
My niece's name is Harmony and it has it on every page 🙂 She was super stoked to get this book!" ~ Bdiddy
I purchased 2 of these sweet personalized coloring books for Valentine's Day for my grandchildren and was very happy I did. While I felt they were pricey, I found them to be exactly what I was looking for, and would not hesitate to order other products from this company. ~ Karen T.
Delightful coloring book. My niece and her daughter were delighted. Let the coloring begin. ~ Patricia A
Great to be able to find a personalized book for an unusual name 🙂 ~ Mrs. Linda Krieder
Adorable – Perfect gift. ~ Wendy SC