Kids Joke Book with Birthday Coloring Pages – Personalized!
Give the gift of laughter with our kids joke book! (Do you know that laughter is vital to children's development? Read more on this under Book Details.) If you want to make a child smile, buy this personalized coloring book full of birthday jokes for kids and birthday coloring pages. Inside this birthday coloring book, the personalized name appears throughout the birthday coloring pages — ready to be colored by the child. Since this personalized birthday book features jokes for kids, it makes a fun and funny birthday gift for any child. Not only does this birthday book include funny jokes for kids, it also showcases cute illustrations of birthday gifts, birthday balloons, birthday cakes, birthday streamers, birthday banners, and more. The birthday jokes in this book are all kid friendly jokes. So, if you are looking for silly jokes for kids and clean jokes for kids, this kids joke book is perfect. In addition, kids love coloring their own name (and it even builds self-esteem). Moreover, studies show that coloring can be a soothing and meditative activity for children. So, all in all, this birthday coloring book makes a great birthday gift for kids. If you're looking for jokes for kids, birthday coloring pages, birthday gifts for kids, or birthday books for kids, this personalized coloring book and joke book may be perfect. Delight a child with funny jokes for kids and birthday coloring pages! This birthday coloring book is priced at $19.95.
VIEW BOOK
Jokes for Kids with Birthday Coloring Pages: View Book Below
When you order your personalized book, the name "LUCAS" will be changed to the child's name of your choice. Please note that the appearance of text and colors on your screen may vary slightly from the printed book. (The blue text "Copyrighted Material" will not appear in your personalized book.)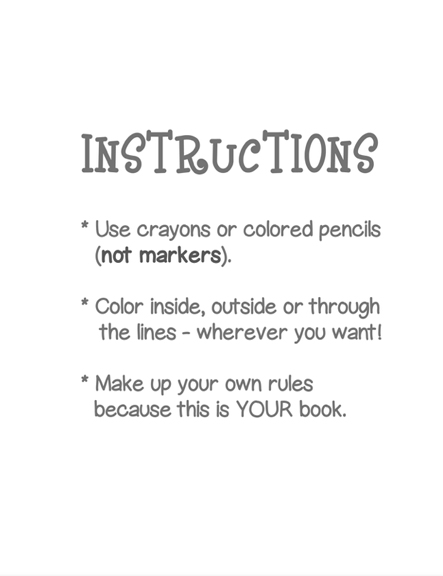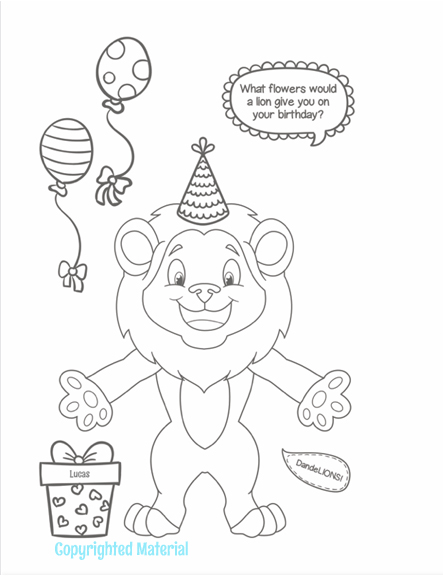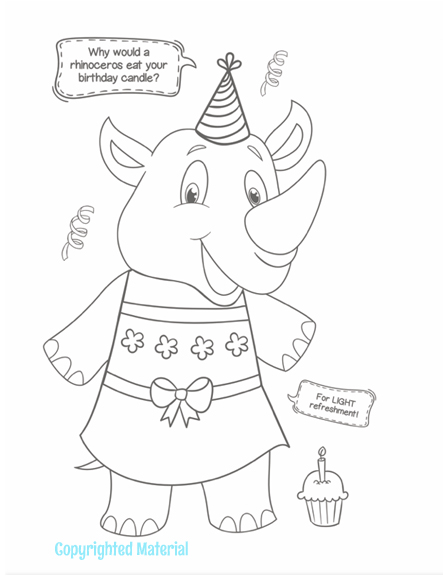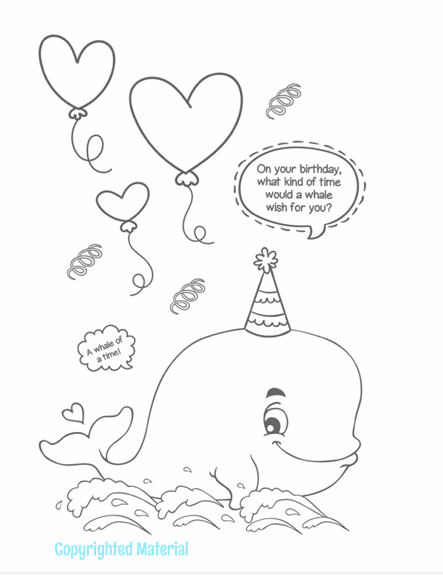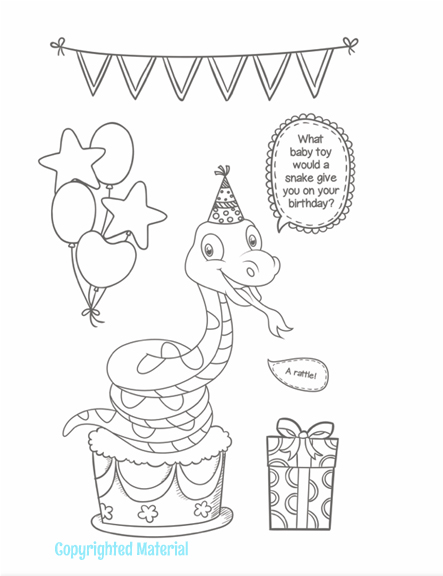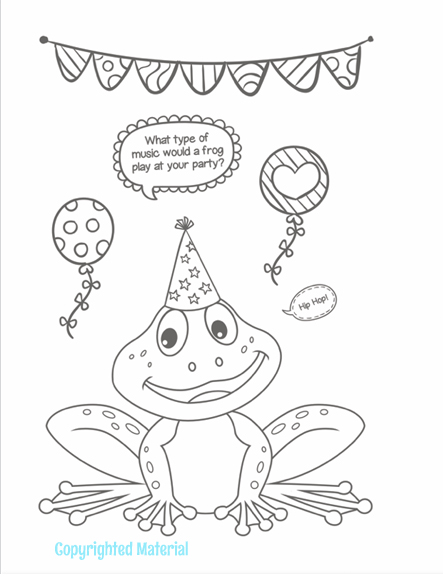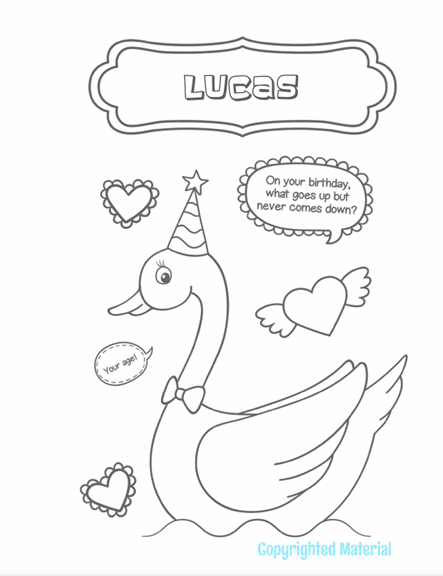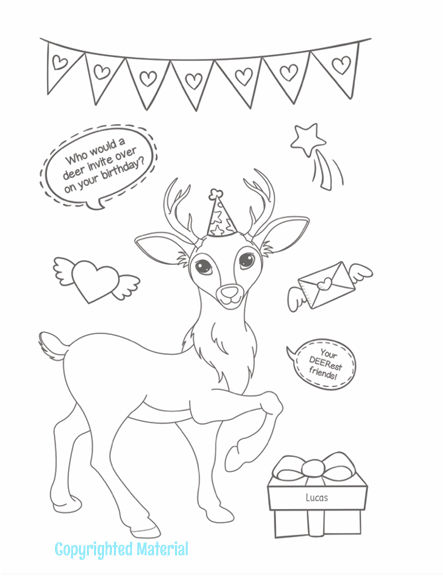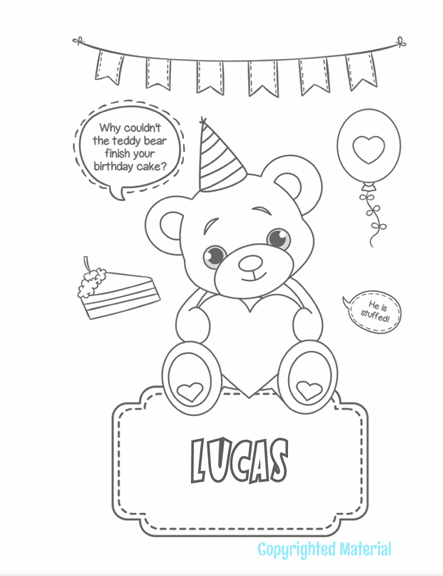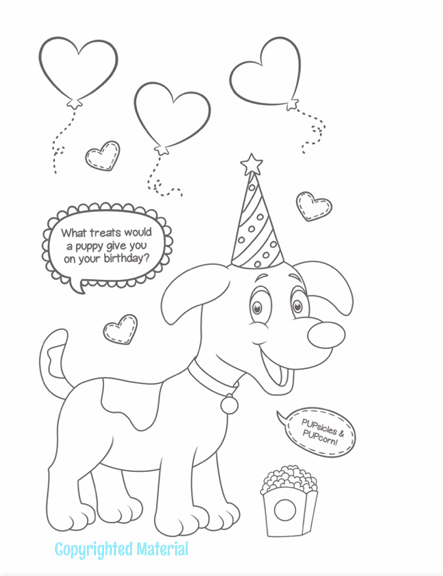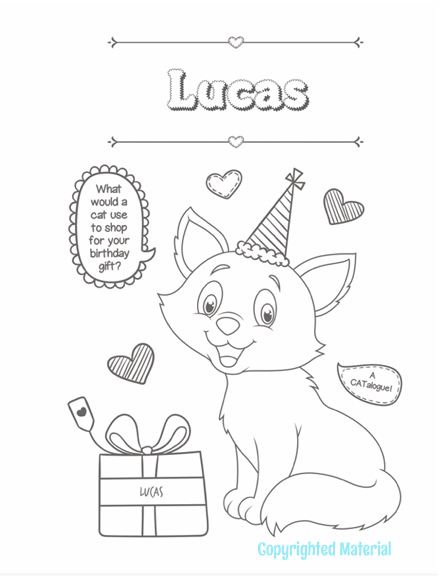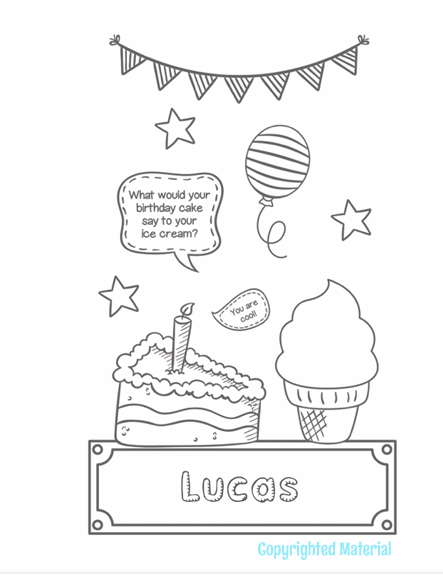 BOOK DETAILS
Kids Joke Book with Birthday Jokes for Kids
Child's name on Cover, Title Page, Dedication Page, and throughout the Birthday Coloring Pages
Book Measurements: 8-1/2 inches by 11 inches
Cover: Glossy Soft Cover
Book Pages: 38 Birthday Coloring Pages
Funny Jokes for Kids: Laughter is Vital for Kids!
If you want to inspire a child with laughter, our kids joke book makes the perfect birthday gift.
Why? According to experts, including KidsHealth.org and TheirWorld.org, laughing is essential to children and their development. Not only does laughter help children connect with others, it also helps them cope with challenges.
As it turns out, a sense of humor is not something we're born with. Instead, it's a learned quality that needs encouragement and nurturing. What better time to inspire and empower a child with laughter than a birthday? With kid friendly jokes, you can help a child enjoy spontaneity and playfulness; see many points of view; and learn not to take themselves or events too seriously.
Overall, laughing with children over silly jokes for kids can improve their sense of well-being and self-esteem. According to research, children who laugh more tend to be more optimistic. Moreover, they have better resilience against adversity, stress and illness. In fact, laughter can even improve digestion and immune function. Not to mention: laughter is fun!
Birthday Coloring Pages with Personalized Name
In our kids joke book, the personalized name is featured throughout the birthday coloring pages. We use cute illustrations and fun fonts for children to color in their own name. Do you know that kids love to read and color their own name? According to studies, name-repetition can boost focus, attention and self-esteem in children. As a result, personalized books can make empowering and inspirational gifts for kids.
At Live Well Media, we have made it our mission to inspire and empower children through personalized books.
CUSTOMER REVIEWS
Reviews for Personalized Birthday Books by Suzanne Marshall
My One Year Old Loves It. My daughter turned one last month, and she picks this book out at least once a day for me to read it to her. I plan on purchasing the Christmas equivalent as well! Updated review: I forgot I had written a review already. But after 4 months since my last review, this is still a go-to book for my daughter. She now makes the animal sounds, points to all the balloons, and identifies the individual animals with sounds on the party page. ~ Amazon Customer
Thank You so much! I love your books & so do my grandchildren. ~ Diane M
Loved it and ordered a second one. Very cute and personal children's book. It makes a great card as well. ~ Kyle W
Blake loved his book. He was 5 years old and smart as can be. Thanks so much. ~ Cynthia A.
I was very pleased and recommended it to co-workers. It would really be a great purchase for a child with a unique or unusual name. I will order another book soon. ~ Cheryl
Five Stars. Love it. ~ Julianne B.
Very pleased. Fun book for little ones. ~ Bette
Super cute. Perfect guest book for her 1st birthday party.
[button color="#FF8C00″ link="https://livewellmedia.com/order-form"]Order Book[/button]