Personalized Coloring Book with Inspirational Coloring Pages and Inspirational Quotes for Kids
Give an inspirational and personalized gift! This personalized coloring book features 25 fabulous and inspirational quotes for kids (and adults too!). In addition to the inspirational quotes, this personalized book includes a total of 50 inspirational coloring pages. Moreover, the personalized name appears 28 times! Did you know that children love seeing their name in print? By and large, personalized books are great for building self esteem in children and building confidence in kids. Furthermore, inspirational quotes are a wonderful way of empowering children. So, inspire kids with this inspirational and personalized coloring book! The inspirational coloring pages include inspirational quotes by Mother Teresa, Winnie the Pooh, Dr. Seuss, and more. Please feel free to view the entire book below. This inspirational quotes book is priced at $19.95.
VIEW BOOK
Inspirational Quotes for Kids: View Book Below
If you would like to view this personalized book, then flip through the inspirational coloring pages below. If you purchase this book, then "Sophia" will become the child's name of your choice. (The blue text "Copyrighted Material" will not appear in your personalized book.)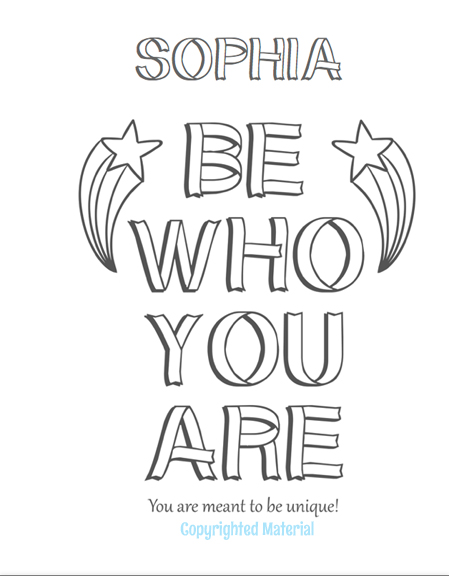 BOOK DETAILS
Inspirational Quotes for Kids: Personalized Coloring Book
Child's Name: 28 Times (Cover, Title Page, Dedication Page, Inspirational Coloring Pages)
Measurements: 11 inches by 8-1/2 inches
Coloring Pages: 50 Inspirational Coloring Pages
Book Cover: Glossy Soft Cover
NOTE: Not Intended for Markers. Please use crayons or colored pencils.
Inspire Kids! Inspirational Coloring Pages with Inspirational Quotes for Kids
Why have we created a personalized coloring book with inspirational coloring pages and inspirational quotes for kids?
First, we all could use more inspiration in our lives. When children face new experiences and challenges, then they need a boost. In fact, many report that reading inspirational quotes increases motivation and decreases depression. Furthermore, many attribute their success to reading inspirational quotes on a regular basis. On the whole, reading inspirational quotes can trigger an immediate change to thought processes, allowing children to shift energy in a positive direction. As a result, our inspirational coloring pages are perfect for empowering children, building self esteem in children, and building confidence in kids.
Secondly, personalized coloring books can be a powerful boost for self-esteem. When children hear or read their name in a positive way, then they tend to feel pretty good about themselves. As a result, our personalized coloring books make great gifts for kids. In fact, personalized books often become keepsakes — treasured for a lifetime.
Thirdly, parents and grandparents tell us that they are inspired by our personalized books too. If they read inspirational quotes for kids, then adults remember to value themselves too. All in all, we appreciate that adults are inspired (too) by our inspirational quotes for kids.
So… inspire yourself and inspire kids with this personalized coloring book!
Inspirational Quotes for Kids – Front and Back Cover
Read Reviews of our Personalized Books
CUSTOMER REVIEWS
Book Reviews for Inspirational Coloring Pages for Kids with Inspirational Quotes for Kids
"Coolest coloring book ever!" ~ Mary Ann W.
"Perfect gift. My daughter was absolutely thrilled to receive a book that was all about her! And she loves to color so this was the perfect gift." ~ Shopaholic
"Adorable personal gift." ~ Denise D.
"Beautiful! My goddaughter loved it!!!" ~ Angela M.
"My daughter was so happy when she was surprised with this after a bad day. She likes that it has inspirational quotes with her name on it. I think it will be her new favorite coloring book! pages are thick and as a parent, I appreciate the good quality." ~ Jinx
"This book is beautiful with my daughter name at the top of every inspirational quote. Lovely sayings." ~ Mrs. H.
"This will be great for our 9 yo granddaughter. What great encouraging quotes! We love it and know she will too!" ~ Lnugent
"This was greatly loved by a sweet Quinn for her 7th birthday. She rarely gets any product with her name on it." ~ Staycee
"Personalized Coloring book is extra special. 3-year-old grandson loves to color and this book with his name in it makes it extra special." ~ Bobbimom
"Five Stars. Good for older girls." ~ Margaret B.
"Adorable coloring book! My daughter loves it." ~ Gina M.