Personalized Coloring Book with Positive Affirmations for Kids
Inspire kids with positive affirmations! If you are looking for a positive and inspirational gift, this personalized coloring book may be perfect. Not only does it feature positive affirmations for kids, it also showcases the child's name throughout the positive affirmation coloring pages. Plus, it features mandalas which are known to be meditative and calming to color. This personalized coloring book makes a great gift because children love to color their own name! In fact, personalized coloring books are a wonderful way of building self esteem in children. In addition, positive affirmations can have a positive impact on kids. According to research, positive affirmations can help kids overcome stress. So, inspire a child today with positive affirmation coloring pages. This affirmations coloring book is priced at $16.95.
VIEW BOOK
Positive Affirmations for Kids: View Book Below
Flip through the coloring book below. If you order this personalized book, then "RACHEL" will become the child's name of your choice. (The blue text "Copyrighted Material" does not appear in your personalized book.)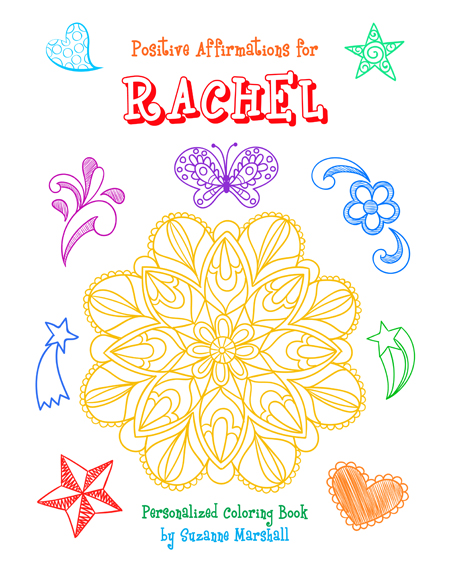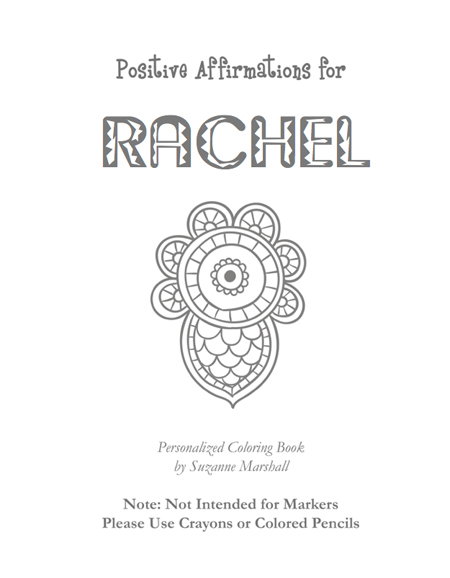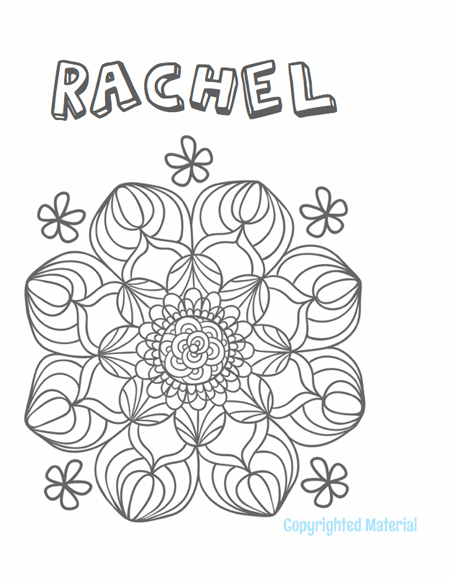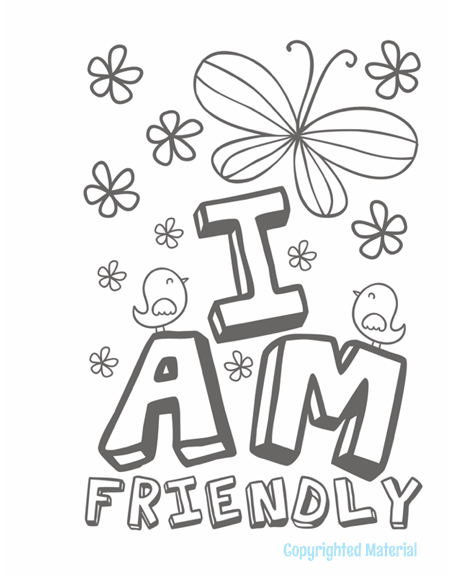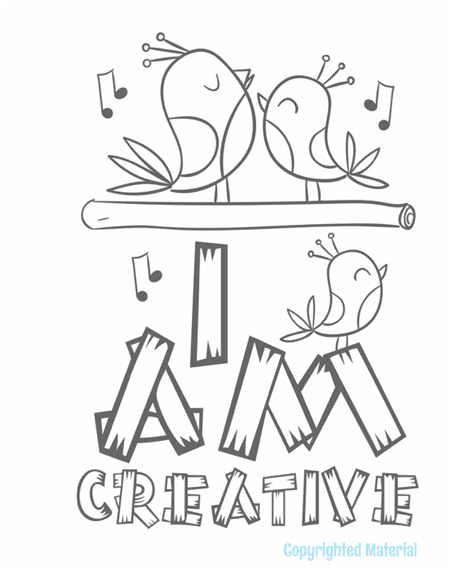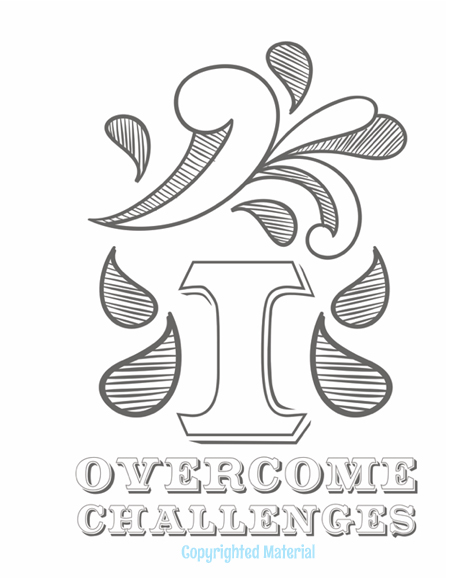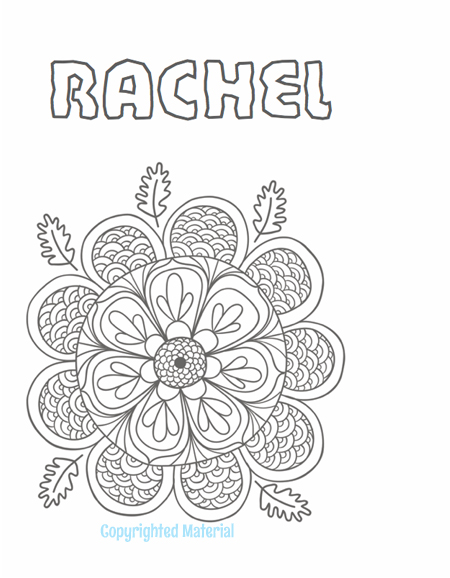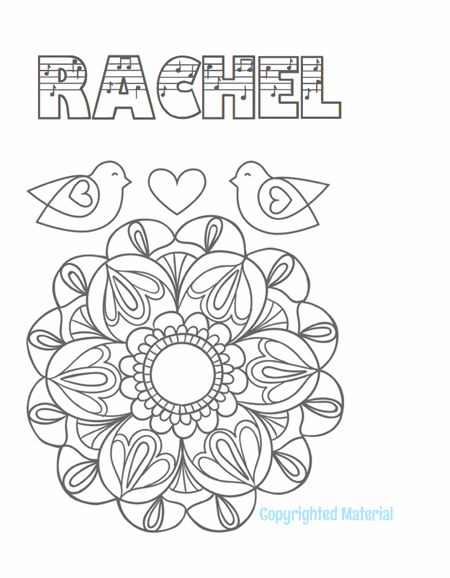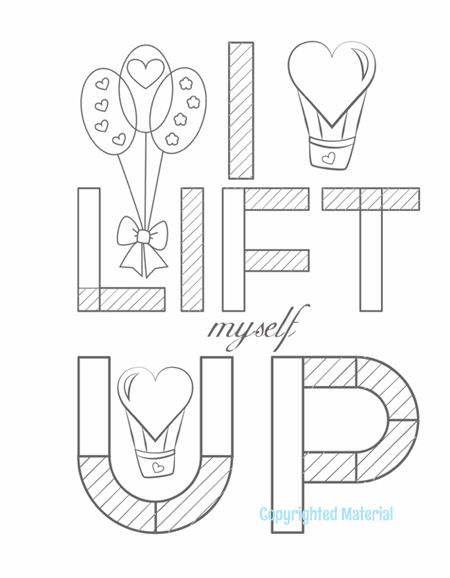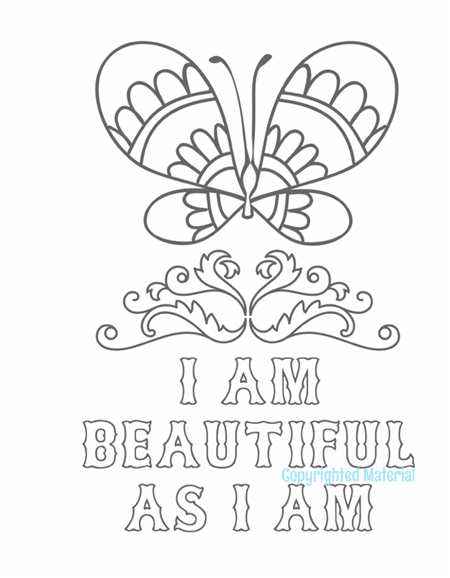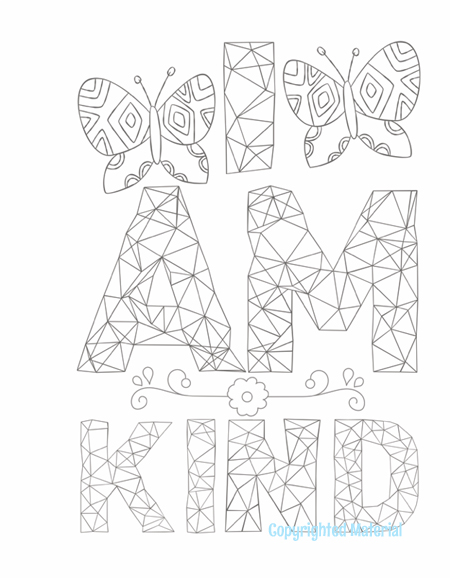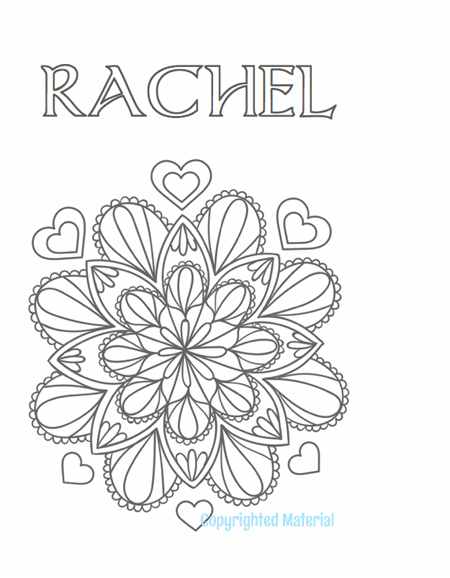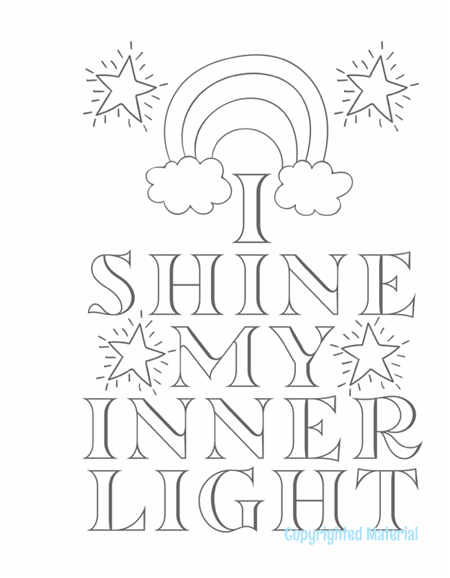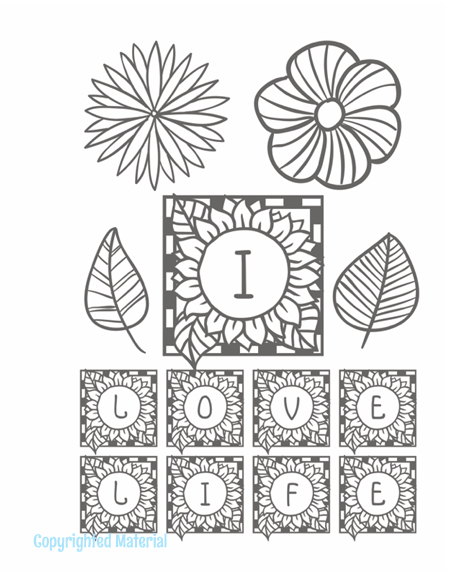 BOOK DETAILS
Positive Affirmation Coloring Pages
Child's Name: 33 Times (Cover, Title, Dedication, Inspirational Coloring Pages)
Book Measurements: 11 inches by 8-1/2 inches
Coloring Pages: 60 Inspirational Coloring Pages
Book Cover: Glossy Soft Cover
NOTE: Not Intended for Markers. Please use crayons or colored pencils.
The Power of Positive Affirmations for Kids
Positive affirmations can make a difference. In fact, studies show that affirmations can help kids deal with stress. When kids face new challenges, then they need reminders of their strengths. For this reason, we filled this personalized book with positive affirmation coloring pages.
In addition, we packed this coloring book with mandalas. If you want to teach a child to meditate, then a mandala coloring book can help. Overall, coloring mandalas can promote relaxation in children. Moreover, a mandala coloring book can be a great exercise for the brain.
The Power of Personalized Books
By and large, personalized books can boost self-esteem. When kids read their name in a positive way, then they tend to feel good about themselves. For this reason, personalized books make great gifts. In addition, personalized books often become keepsakes for kids.
Read Reviews of our Personalized Books
Encourage a child with Positive Affirmation Coloring Pages
CUSTOMER REVIEWS
Customer Reviews: Personalized Coloring Book with Positive Affirmations for Kids
"Five Stars. Wonderful book and a great gift!!" ~ Jill K
"Super cute & personalized. My daughter loves it." ~ Rick F
"This was great! I will keep this in mind for future gifts!" ~ LP
"My niece loved getting a personalized coloring book. Probably because her siblings can't claim it as their own. Haha!" ~ Amanda